MERCREDI 4 AOÛT
18h : SQUARE ARISTIDE BRIAND
20h : GUINGUETTE – Parc de Montjoux
JEUDI 5 AOÛT 
19h et 20h45 : GUINGUETTE – Parc de Montjoux
VENDREDI 6 AOÛT
19h45 : PLACE DU MOLLARD
21h30 : RUE SAINT SÉBASTIEN
SAMEDI 7 AOÛT 
19h30 : PORT DE RIVES 
21h30 : GUINGUETTE – Parc de Montjoux
Durée : 45 min
Tous publics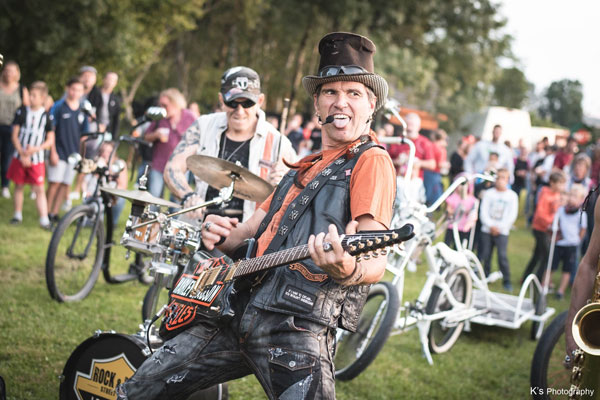 LES BIKERS – Compagnie Histoire de Famille
Ils sont frimeurs et bruyants !
Ils ont le style, les tatouages, les gros bras et rident comme les vrais dans la chaleur et la poussière.
Ils rêvent de la route 66 en Harley, mais c'est sur la nationale 4 qu'ils s'entrainent…à vélo !
À 4 ils jouent du rock, du vrai, du gros qui sulfate ses riffs à tout va et fait craqueler le cuir des Santiags.
La Grange, Smoke on the Water, Highway to Hell, Born to be Wild, Black Betty…
Les plus grands tubes Rock'n Roll interprétés par 4 bikers losers dans un Road Trip déjantés.
GRATUIT