Passe par la fenêtre et cours
MERCREDI 4 AOÛT – 19h30
JEUDI 5 AOÛT – 19h30
Durée : 45 min
Tous publics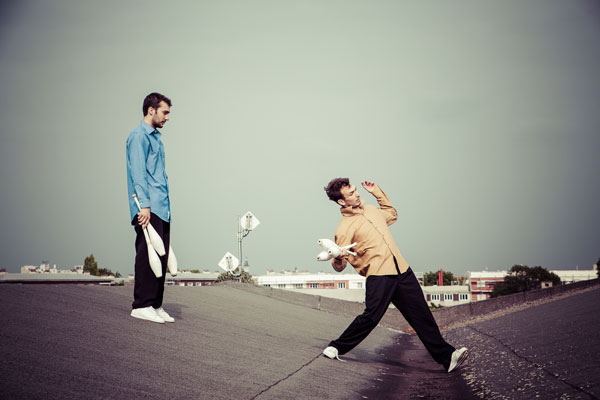 A voir sur le même lieu :
HAPPY THAT YOU WILL BE HERE – Los Babuinos
1 +1 = 3, DUO ABSURDE – Les Frères Peuneu
JOHNNY, UN POÈME – Compagnie Gérard Gérard & Rhapsodies Nomades
PASSE PAR LA FENÊTRE ET COURS – Compagnie Happy Face
Quelque part entre la danse, le jonglage et le théâtre, ils cherchent à exprimer les petites (grandes) peurs de la vie. Ils jonglent comme ils esquivent, comme on évite des obstacles. Il s'animent à remuer ce qu'ils ont dans les tripes pour trouver un moyen de s'en sortir, de faire face à la réalité qui les entoure. Parce que le drame ne se joue pas forcément là où l'on croit, peut être que se perdre pour de bon n'est pas une si mauvaise chose que ça.
La compagnie Happy Face ne ressemble à aucune autre. C'est pour ça qu'on l'aime.
Avec : Boris Couty et Maxime Sales
GRATUIT