VENDREDI 6 AOÛT – 18h
SAMEDI 7 AOÛT – 18h
Durée : 45 min
Tous publics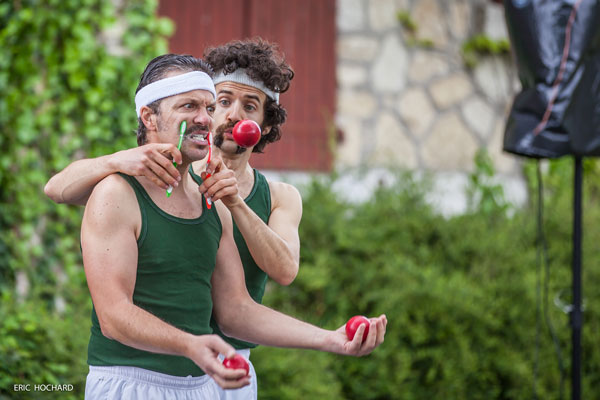 A voir sur le même lieu :
HAPPY THAT YOU WILL BE HERE  – Los Babuinos
PASSE PAR LA FENÊTRE ET COURS  – Cie Happy Face
JOHNNY, UN POÈME – Cie Gérard Gérard & Rhapsodies Nomades
1+1=3, DUO ABSURDE – Les Frères Peuneu
Deux personnages débordés et débordants, moitié sportifs, moitié artistes, moitié sauvages,
présentent un spectacle à base de jonglerie au quotidien, d'indiens pacifistes et de vélo d'enfant acrobatique.
Il vous faudra beaucoup de courage pour ne pas rire devant ces deux crétins. Médaillés d'or de la bêtise, ils renouvellent encore le genre et s'engouffrent avec bonheur dans la pitrerie.
Une touche de performance, une pointe de tendresse, quelques spaghettis et surtout beaucoup de conneries !
Avec : Mazere Bertrand et Argudo Mathieu
GRATUIT